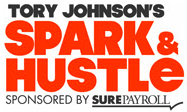 I made a big decision this year, to stop procrastinating and start DOING! Doing they many many things on my never-ending list to get LoveCakes from its current state of an online cupcakery to a full-fledged brick-and-mortar shop. The first step to getting to the "doing" was when I saw Tory Johnson on my favorite local morning news on KTLA. I felt like Tory was talking right to me, and only me, and I sat mesmerized by this amazing, confident, intelligent woman as she talked about how to grow your business. When she mentioned she was hosting a conference for small business entrepreneurs called Spark & Hustle in LA (the first of many scheduled around the country through July), I signed up within the hour. I had no idea just what I was getting into, but I quickly learned that Tory is a woman of action. She had emailed me within a few short hours of registering to ask if I would like to be a vendor at the conference as well as an attendee. Umm, let me think, Heck Ya!! A chance to showcase LoveCakes for a ballroom full of amazing, talented, go-getters like myself?! It was an honor. But more on that later. I have to rave about just a few of the highlights (for me) from the spirit-lifting, energizing, and profoundly inspiring past three days:
Nell Merlino: Creator of "Take Our Daughters To Work Day" and leader of "Make Mine a Million $ Business" (one can hope!). The brilliant and eloquent Nell calmed my fears about writing a business plan by explaining that not everyone, in fact most of us, don't need to write a big scary 40-page monster! A concise yet thorough 1 or 2 pages is all I need. Who knew??
Jen Bilik: Founder of my favorite stationery company ever – Knock Knock. What an amazing treat to meet the face behind such a fun, sassy, and successful company. She spoke about how important it is to inject your personality into your brand and use it to your advantage. So I can stay sarcastic and silly and still be a success! Woohoo!
Marley Majcher: Party planner extraordinaire and the brilliantly engaging speaker talked to us about how to price for profit and truly understanding the actual costs–from the hard goods to your time spent landing the client, something we often don't take into account. And did I mentioned hilarious??
But I would be remiss if I didn't mention (again) how amazing Tory was/is, as well as her equally awesome partner Michelle Pippin and the incredible team behind these two. This weekend gave me renewed hope that I can do this, and I can do it soon and successfully!
Now for the cupcakes! On Friday night Spark & Hustle hosted a sweets and shopping event, inviting several of the attendees to showcase their products and services. From cupcakes to candles, baubles to books, there was a little something for everyone.
Now that I have had a chance to relax after this amazing whirlwind weekend, I am looking forward to implementing the skills, advice, and lessons learned in the weeks to come. I made several fantastic contacts throughout the event and will be connecting with many of them to see how we can work together, propel each other, and ensure that we all achieve the success we deserve! I have made it my goal to become such a success that Tory invites me to be a speaker at a future (next year??) Spark & Hustle event. Wow, now that it's out there, I have to do it!