One of the many wonderful things about living in LA is that there is always something interesting going on at any given time. Book signings, product launches, new restaurant openings, art shows — you name it, we're doing it. I love attending the more off-the-beaten path events, and last week LoveCakes got to partner up with a fabulous local boutique for the launch of a new line. Jenette Bras, a lovely shop for busty gals, or as they put it, "The Overdeveloped and Underserved," threw a party for its line of super-sexy and subtly bondage-like bras and panties from Marlies Dekkers. Wow were these some gorgeous pieces!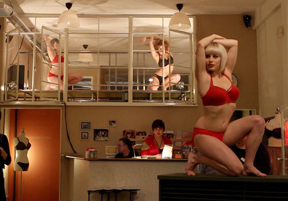 A multi-media fashion show complete with modern dancers and ethereal music entertained guests while they sipped on cocktails provided by Tequila Avion (yum!) and nibbled on LoveBites provided by yours truly.


We had a fun time and hope to do more fun events with Jenette and her great team. If you are in need of some gorgeous and well-fitting lingerie, and are a D and above (since, as Jenette puts it, "The Alphabet Start at D") stop in and see them.