Now, I'm not going to say that I'm lazy, or that I look for short-cuts, but when I can find a way to re-purpose a recipe quickly and easily with just one or two minor substitutions or modifications, I'm a happy baker. I don't see a need for dozens of elaborate and complicated recipes when it comes to cupcakes. As I've mentioned, I'm not a trained pastry chef, and I don't work in a fancy French restaurant making dazzling croquembouche or delicate soufflés. So if you were to look in my recipe binder you would see I have basically one recipe for frosting (which I still won't reveal!) that I can modify easily with a pinch of this and a dash of that.
For instance, starting with my addictive Vanilla Bean Cream Cheese frosting, I can whip up fresh citrus frosting simply by subbing out the vanilla bean paste with grated lemon or orange zest and a little citrus oil (one-half to one teaspoon, depending on how deep and bright you want the flavor to be). The orange cream cheese frosting is divine on carrot cupcakes.
Yo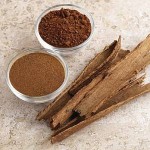 u can also use peppermint or coconut extract, both of which would be delicious on a chocolate cupcake. Or add a teaspoon of cinnamon and use it on pumpkin, banana, or apple cupcakes (even carrot, although I still prefer the orange frosting).
My absolute favorite is my chocolate cream cheese frosting. I use Cacao Barry Cocoa Powder Extra Brute because it is super dark and finely ground. I use about 1/3 cup (subtract the same amount of powdered sugar) to get a deep, dark brown color. Spread that delicious frosting on everything! Vanilla, chocolate, marble, chocolate chip, peanut butter cup – the cupcake possibilities are endless. I also like to smear it on a chocolate chip cookie and sandwich it with another cookie. Pure decadence (and the reason I will never be a size 4!).
The best part of my job is the experimenting, so go crazy. Find a really great basic vanilla frosting recipe and then let your mind go nuts. Oh, that reminds me – nuts! Toast up some chopped pecans or slivered almonds and sprinkle them on the frosting for a yummy crunch and added layer of flavor. Enjoy!