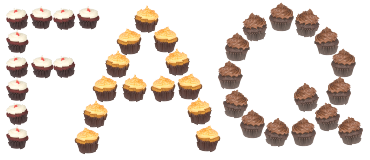 Answers to most questions can be found here. If you have additional questions or need more information, please

contact us

today.
Is there a minimum order?
Where is your shop?
LoveCakes
 is an "online bakery," meaning we do not have a store front for you to visit. We service the Greater Los Angeles area, with our actual kitchen located in Atwater Village. You can place an order by 
emailing
 or calling us at
213.393.5808
.
How much advance notice do you need for a standard order?
We will do our best to accommodate orders placed at least 48 hours in advance. Weddings/special events or custom orders require more notice. Please
contact
us for more information.
What forms of payment do you accept? Do I need to pay in advance?
We accept cash, all major credit cards, company checks, and with discretion we may accept personal checks. For new customers, we require payment in advance for orders over $50. We will charge your credit card at the time the order is confirmed. If you decide to pay via a different form at time of delivery/pick up, we will refund your credit card immediately. We rely on
Square
to process our credit card payments.
Do you deliver?
Yes we deliver in the greater Los Angeles area. See below for rates to certain areas. If you do not see your area listed, call us for a quote. You may also pick up your order in Atwater Village at no charge, call us for details. Rates for large orders/weddings may be higher, please inquire. These rates do not include any set-up.
Altadena: $15
Atwater Village: Free!
Beverly Hills: $25
Burbank: $15
Downtown: $15
Echo Park: $10
Glendale: $10
Hollywood / West Hollywood: $15
Larchmont: $15
La Canada Flintridge: $15
Los Feliz: $10
Miracle Mile / Mid-Wilshire: $15
North Hollywood: $20
Pasadena: $15
Sherman Oaks: $25
Silver Lake: $10
Studio City: $15
Rates are based on a non-rush / non time-specific service (delivered by early to mid afternoon). Additional charges may apply if you need your order delivered before 10am or late in the evening.
Do you cater events/parties/weddings?
Yes! We love to be a part of your special celebration. Check out the 
Gallery
 for some photos of events and weddings we did. From cupcake towers to candy buffets, we will work with you to create the dessert display of your dreams!
Do you make cakes?
We offer 6″ "cutting cakes" for weddings. Check out the 
Gallery
to see examples of cutting cakes. If you would like a larger cake, contact us to discuss.
I have more questions!
Give us a call at
213.393.5808
or 
email
us.
Why do you have minimums?
As we are an "online bakery" we bake everything fresh to order, from scratch. We don't have treats ready and waiting for you to pick up, and therefore are unable to sell in quantities less than the specified minimums.
What is an online bakery?
As part of the recently passed Cottage Food Act of California, certain food products are allowed to be prepared in a home kitchen and sold directly to consumers (that's you!).  All LoveCakes products are made in a home kitchen that meets the requirements for a Class A permit. Registration #: LA19E130009 .
Can you decorate or personalize the cupcakes?
Yes we can! There are a few options. The easiest and free option is to use colored sprinkles, confetti, quins, etc. Just let us know if you have a color preference and we will do our best to match it.   Next, we can create paper toppers customized with your message and designed to match your party theme/decor. These are $6 per dozen. Here are a few examples of our toppers: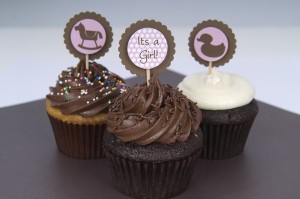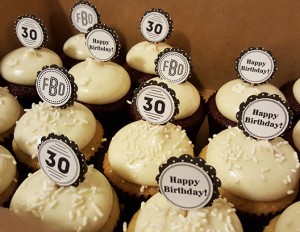 We can even use your logo for corporate events: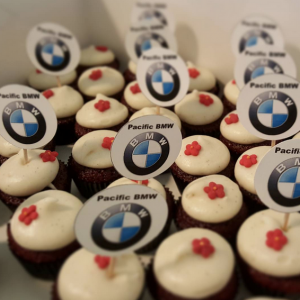 We also have an assortment of sugar shapes to place directly on the cupcake. These are also $6 per dozen. Here is a baby shower sample: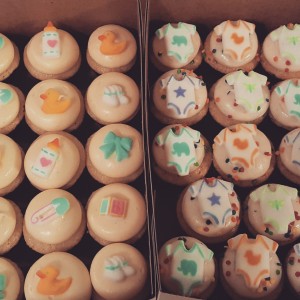 We love to work with our customers to make sure our cupcakes not only taste amazing, but look great at your party or event. Let us know how we can help!
Can you include a card or message with the order?
We are happy to include a complimentary gift card with your order. Please send us the exact message you would like transcribed. If you would like to include your business card with orders sent out to your clients / business associates, please contact us for our mailing address.
Do you ship your treats?
Unfortunately the CA Cottage Food Act prohibits us from shipping our treats. You can ship them anywhere you'd like after purchase however!
Do you offer tastings?
Yes we are happy to host a tasting for you. A standard tasting is 3 cupcake flavors/frostings (2 cupcakes of each flavor) for $25. For additional flavors, contact us for pricing. The cost of the tasting may be applied to your final order (on orders over $200 only). The tasting can be held at your home or at another location.
Do your products contain allergens?
Yes. 
LoveCakes
 uses dairy, butter, eggs, peanuts, tree nuts, fruit, food colorings, and/or wheat in some or all of our treats. We do use proper methods to avoid cross-contamination, but we do not offer a guarantee. If you are allergic to any of the above listed items, please do not consume our products. 
LoveCakes
 assumes no responsibilities to any persons known to have food allergies who consume our products.